Evenimente
ROCKSTADT Extreme Fest
Data: 11-14 August 2016
Ora: 10:00
Locatia: Terenul de Biatlon, Rasnov, Brasov
Pret: 220 RON

---
Detalii: Parkway Drive, Moonsorrow, Soilwork, Morgoth, TesseracT, Insomnium, Tankard, My Dying Bride, Carach Angren, Bucovina, Excrementory Grindfuckers, Indian Fall, Cattle Decapitation, Misfits, Borknagar, Destruction, Hocico, Infest, Gutted, Clitgore, Mind Assault, Infected Rain, Holocausto Canibal, Hteththemeth, Hypno5e, Ordinul Negru, E-An-Na, Lambs, Postvorta, Moribund Oblivion, Stercore si Berserkers + more to be announced

"ROCKSTADT Extreme Fest" va avea loc in perioada 11-14 august, 2016, de joi pana duminica. In continuare, peste 45 de formatii vor concerta pe parcursul a patru zile de muzica metal, locatia fiind aceeasi, Terenul de Biatlon de la baza cetatii Rasnov. Organizatorii subliniaza faptul ca la fel ca si pentru ultimele doua editii, NU vor exista bilete pe zile, ci doar abonamente ce asigura accesul in toate cele patru zile ale festivalului.

---

OLD GRAVE FEST 5
Data: 7-8 October 2016
Ora: 17:00
Locatia: Club Fabrica, Bucharest
Pret: 99 lei (23 euro)

---
Detalii:
ARCHGOAT (Finland, Black/Death)
VARATHRON (Greece, Black)
GAMA BOMB (Ireland, Thrash)
ANTISECT (UK, Crust Punk)
KORGULL THE EXTERMINATOR (Spain, Thrash/Black)
CASTLE (USA, Heavy/Doom)
EXECRATION (Norway, Death)
DISKORD (Norway, Progressive/Death)
KHTHONIIK CERVIIKS (Germany, Death/Black)
VIGILANCE (Slovenia, Heavy/Black)
STEREO NASTY (Ireland, Heavy)
HELLSODOMY (Turkey, Death)

+2 TBA

Romanian Thrash Metal Club is proud to present OLD GRAVE FEST 2016, the 5th edition of the only metal festival in Romania organized by a fan club, for fans, the festival where your money helps us fund the next edition.
Limited tickets are already available for only 99 lei / 23 EUR, online at http://www.rtmc.ro/tickets/ and www.iabilet.ro. The hard tickets are also available, in UMAN shops, MUZICA store, Perfect Tour shops, in Private Hell bar (Bucuresti, 5 Soarelui Str.) or via Titus Constantinescu (Bucuresti).

---

Emagic Classics: Queen & Adam Lambert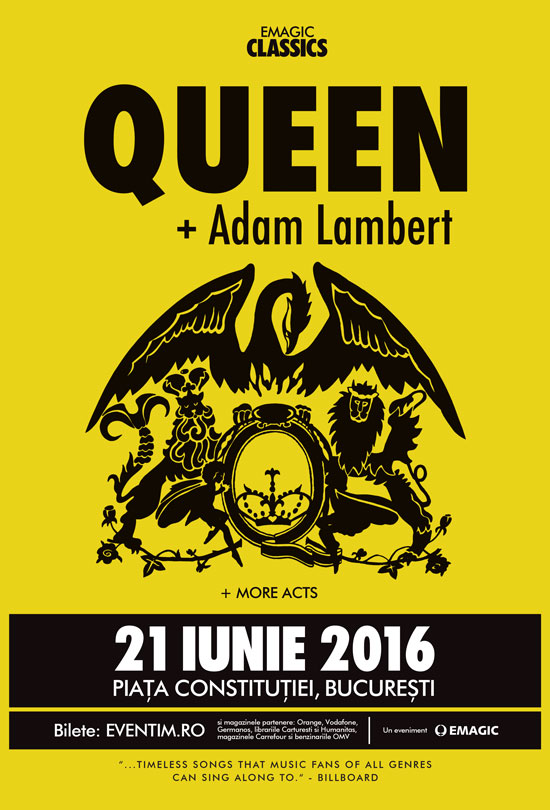 Data: 21.06.2016
Ora: 17:00
Locatia: Piața Consituției
Pret: 141/246/346/597 RON

---
Detalii: Anul 2016 se anunta a fi un an al premierelor pentru publicul roman care va avea ocazia sa vada live, pentru prima data in Romania, unul dintre cele mai asteptate show-uri ale ultimilor ani: legendara trupa Queen + Adam Lambert! Concertul va avea loc pe 21 iunie, in Piata Constitutiei din Bucuresti, fiind un eveniment Emagic Classics, platforma care a mai gazduit in trecut show-urile unor artisti internationali celebri precum Bob Dylan sau Sting.

---