Evenimente
Amon Amarth
Data: 29 Aprilie 2014
Ora: --
Locatia: Arenele Romane, Bucuresti
Pret: 87 Lei - pana la data de 31 martie 2014

---
Detalii: Atentie: numar limitat de bilete doar1000 bucati!

Cu ocazia lansarii celui mai nou material discografic "Deceiver of the Gods", formatia AMON AMARTH a decis sa plece intr-un turneu de promovare care va poposi si in Romania, la Arenele Romane din Bucuresti, pe data de 29.04.2014.

Bilete: http://www.promusicprod.ro/bilete.php
87 lei pentru urmatoarele bilete, pana la data de 31 martie 2014 (ramane valabila si plata prin card)
95 lei in perioada 01-28 aprilie 2014(plata prin card)
110 lei pentru biletele achizitionate in ziua concertului, 29 aprilie 2014. Acestea se achizitioneaza DOAR la intrarea in locatia evenimentului.

---

Concert Arch Enemy la Bucuresti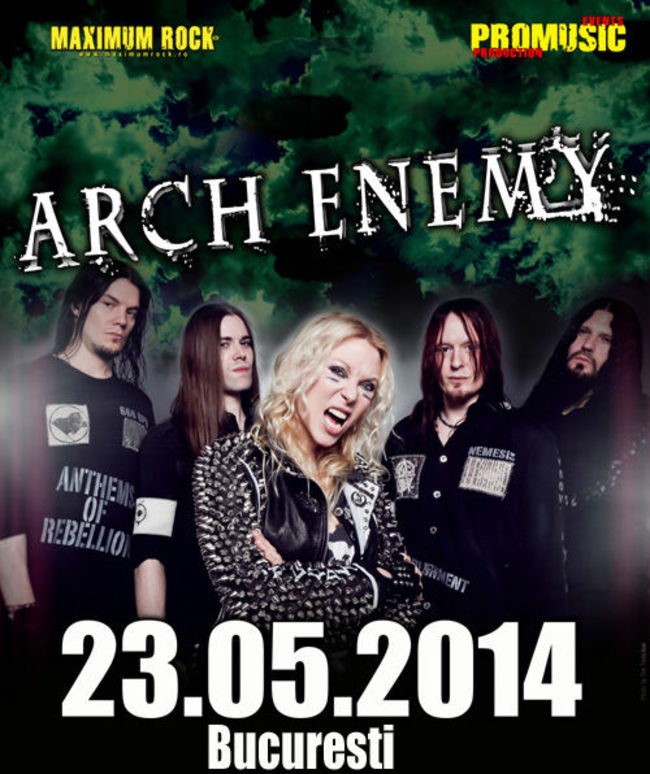 Data: 23 Mai 2014
Ora: 19:00
Locatia: Bucuresti, Turbohalle
Pret: 87 lei - 100 lei

---
Detalii: Data: 23 mai 2014
Ora de incepere: 19:00
Locatie: Turbohalle, Bucuresti - Open doors


https://www.facebook.com/events/1469364343276792/
http://www.infomusic.ro/location/turbohalle/
Locatie: Adresa: Bd Iuliu Maniu nr 220B

Show-ul se va desfasura la Turbohalle, se pare ca nu vor exista bilete vip. Bilete: 78 lei - 100 bucati (plata doar prin card sau direct la sediul firmei)

Bilete: http://www.promusicprod.ro/bilete.php

---

Romanian Thrash Metal Fest 3rd Edition - Old Grave Fest
Data: 10-11 octombrie 2014
Ora: -
Locatia: Club Fabrica (Bucuresti, str. 11 Iunie, nr. 50)
Pret: 115-155 RON

---
Detalii: Romanian Thrash Metal Fest is probably the only festival in the world that is presented as a joint effort of the three main components of the scene: fans, bands and promoters. Romanian Thrash Metal Club aims to take things to the next level, where the false boundaries imposed by a bankrupt and dying industry melt down, bringing together under the same roof all participants primarily as fans that will play music, will jump around and will provide for themselves the services and comfort specific to this kind of event.


Grave (Death Metal, Sweden)
Cancer (Death/Thrash, UK)
Desaster (Black/Thrash, Germany)
Root (Black Metal, Cehia)
Bombarder (Speed/Thrash, Serbia)
Sodomizer (Thrash/Heavy, Brazil)
Bolzer (Black/Death, Switzerland)
Slaughtered Priest (Black/Thrash, Greece)
Deathstorm (Thrash Metal, Austria)
Necrochakal (Black/Thrash, Greece)
Hellcannon (Thrash Metal, USA)
Obsessor (Thrash/Black, Germany)
Extirpation (Black/Thrash, Italy)
Vehementer (Black/Thrash, Serbia)

Tickets:
http://biletoo.ro/event.php?id=1821
http://biletoo.ro/event.php?id=1821
http://bilet.ro/event.php?id=1821#



---